ART BOX STUDIO WORKSHOPS
ABOUT THE ARTIST
CAROLE BARNES

APRIL 14-18, 2008

Creative Watermedia
and Personal Critiques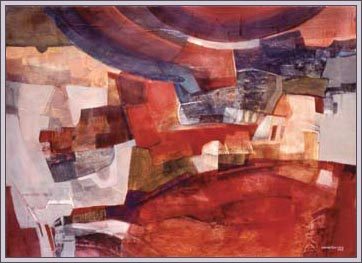 Carole Barnes acrylic on paper 36" x 28"
"My new work is based on my intrigue with mythology, symbols and ancient times and places. By using acrylic paint on paper, I can layer, scratch, lift off and evolve the images until the painting communicates with my feelings and sensitivities. The symbols become a mysterious language melded with color - buried and then emerging to the surface again. With this process I can explore, experiment and search for the essence that moves me most. I hope my personal visions and my love of painting will evoke a response from you - my viewers."

Carole Barnes, member of the American Watercolor Society, National Watercolor Society and others, has received numerous awards in national juried shows and has been featured in many books and magazines. She teaches watermedia workshops across the country and is a frequent juror for state and national watercolor exhibits. She is often found in New Mexico communicating with her muse. Her work is found in corporate and private collections nationwide.

LOOK FOR CAROLE BARNES
APRIL 2008 at the ART BOX!

APRIL 14-18, 2008
9:30 am - 4:30 pm
CAROLE BARNES

$465 fee

$35
Exact location and materials list will be sent after registration.

ART BOX STUDIO
SYLVIA MEGERDICHIAN
ART BOX STUDIO; 1302 N. MONTE VISTA, #9; UPLAND, CA 91786-8221
STUDIO: (909) 981-4508
HOME SYLVIA MEGERDICHIAN AIDA HUGHES Gallery 3 WORKSHOPS ABOUT US LINKS